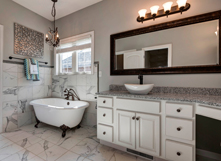 Our Driving Passion is to Help You Sell Your Home for Top Dollar!
Your needs always come first.
– Rob & Becky
At Clay & Clay Real Estate Team, we provide the service we agree to, in the ways that work for you, whether once a week, once a day, by phone, email or text message. That's how we'll do it. You'll always be kept in the loop.
When You Work With Us, You Get:

An experienced real estate team with expertise in the selling process from listing to close
Marketing and advertising savvy with the tools necessary to get your home top-tier exposure
An allied partner looking out for you and your home throughout the selling process
Expertise in listing, pricing, staging, and selling your home to the right buyer quickly
We Commit to Helping You Sell Your Home By:

Providing knowledgeable pricing, competent staging and attention to the smallest details to make sure your home delivers a great first impression
Using our Extensive Digital & Print Advertising Package to maximize your property's exposure
Smoothing the way for your listing and sale with guaranteed satisfaction — our relationship is dependent on meeting your needs and exceeding your expectations
Ready to Begin the Selling Process?

Our team is here to ensure you maximize your opportunity. To get started,
contact us
today.