Professional Real Estate Takes Teamwork

In that spirit of teamwork, we develop long-term, meaningful relationships with like-minded quality business professionals across many trades and service platforms.
– Rob & Becky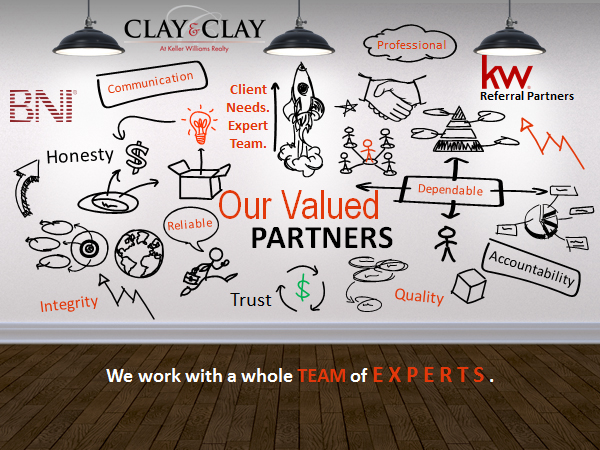 Clay & Clay Real Estate Team's partners—including Business Network International (BNI) and Keller Williams Referral Partners—are crucial to our work serving sellers and buyers. When our clients have a need, we turn to our team of experts. This is accomplished by facilitating the referrals our clients need. We closely monitor the experiences our clients have with our partners. This helps ensure our partners continue to deliver exceptional service at competitive rates. What this means is we are constantly watching out for our client's best interests.

*We do not receive any form of compensation from partners for referring business.
Check out these valued partners:
Want to partner with Clay & Clay Real Estate Team?

If you provide a trade or service for residential and investment property owners and would like more information about joining our partner network, we would love to meet you. It's a great opportunity to meet other trades and build your own referral network. To explore the opportunities, contact us today.