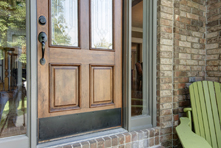 Welcome Home … To A Better Real Estate Experience
We'd love to be your real estate experts for life!
– Rob & Becky
Our Clay & Clay Real Estate Team understand many buyers and sellers are looking for a better real estate experience.
For most people, buying and selling a home is one of the largest financial transactions they will conduct in their lives. The reasons people buy and sell are typically associated with life changing events. These reasons, combined with all that is involved with buying and selling, can be a highly emotional experience; ranging from excitement to anxiety, delight to disappointment, elation to worry, relief to sadness, and sheer joy. We understand this and take time to listen to your situation, concerns and needs.
We educate, equip and empower so you can make the best decisions for your situation with confidence.
Dedicated Professionals

Rob and Becky Clay are truly dedicated to providing you with a better way to deal in residential real estate. By combining their real estate experience with nearly 30 years of successful marketing, management and sales experience, Rob and Becky bring a unique perspective to real estate transactions.
Minimum Service Commitment

Actively listen and attentive to your dreams, goals and needs
Regular communication keeping you informed
Easily accessible and available to answer your questions
Protect and advocate your rights during the entire process
Educate, equip and empower you to make confident decisions
Facilitate your transaction from beginning to contract-to-close
Strong negotiations netting you the best price and terms
Detailed, aggressive and proven marketing package

Provide knowledgeable pricing, market and offer strategies
Complimentary staging consultation and concierge services
Oversight and follow-up for all inspections and repairs needed
Entire team of experts across many fields
Cutting-edge technology applied to listings and home searches
High-quality signage with C&C website and KW branding
Immediate follow-up on showings for sellers
Prospecting for buyers and price watching to get listings SOLD
Troubleshoot and mitigate problems
Absolute commitment to excellence in all areas
Education
Rob holds a B.A. Degree in Communications and Master's Degree in Business Administration. Rob is a licensed Broker and Becky a licensed Salesperson in the State of Missouri and members of National Association of Realtors® and Greater Springfield Board of Realtors®.
Ready to Sell or Buy?
Contact us
today to start the conversation and enjoy a better real estate experience.